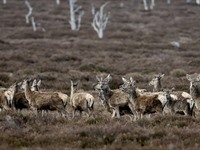 WILDLIFE TRIPS
For wildlife enthusiasts Dalrachney Lodge is set in the perfect location. In the heart of the Cairngorms National Park, guests are surrounded by some of Scotland's most spectacular animals and scenery. Knowing where to find and how to access these animals can be tricky. Our wildlife partners have unique vehicular access to a number of stunning locations, some of which are less than a mile from the Hotel. Whether you want to explore the Cairngorm National Park's famous Caledonian Pine forests and vibrant low ground with Golden Eagles, Sea Eagles and Ospreys to name a few, or prefer to head out onto the moor and listen to Red Grouse calling while sampling fantastic local food from the comfort of their hillside lunch hut, they will make it happen. There is so much to see during every season -
Spring - Crisp mornings mean one thing - Black Grouse lekking. Sit down with a coffee and enjoy these amazing birds displaying from the comfort of your own hide.
Summer - With large amounts of migratory birds, not to mention all the young animals now on show, why not spend a day viewing them in their natural habitat from the comfort of a 4x4. Alternatively make the most of the long days and spend an evening viewing eagles in a remote Highland glen.
Autumn - The nights drawing in means the Rut. For the month of October Red Deer stags battle it out to try a secure as many Hinds as possible. Our partner's hillside lunch hut is the ideal spot to sit back and watch this spectacle unfold.
Winter - It's not just the snow that's white, Spend the day viewing Mountain Hare and Ptarmigan in their winter "outfits". Wrap up warm and take a trip into the Cairngorm Mountains to see these awesome animals close up.
If this has whet your appetite for a wildlife adventure during your stay, let us know and we can arrange it for you. Call 01479 841252 or e-mail dalrachney@aol.com